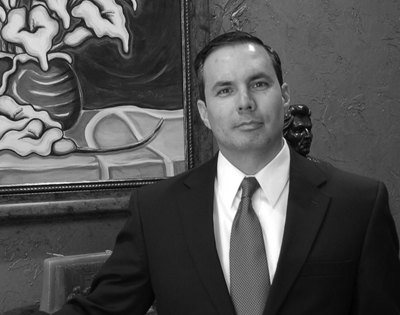 BIOGRAPHY
Roberto Rios has practiced law from the perspective of the plaintiff since he was licensed by the State Bar. He has handled hundreds of civil litigation cases in all forms of personal injury and maintains an active and aggressive docket. Concentrating on trial litigation, he has tried or assisted in over sixty trials, ranging from complicated claims such as dram shop and commercial litigation to more common cases such as car collisions. He has further been asked to speak at numerous Continuing Legal Education seminars, helping further educate practicing attorneys in various areas of law. Roberto is further certified as a mediator, assisting attorneys and clients with mediations primarily in the field of personal injury and commercial litigation and is regarded as one of the top mediators in South Texas.
Originally from El Paso, Texas, Roberto moved to San Antonio while young and graduated from Central Catholic High School. While at the University of Texas at Austin, he participated in numerous activities and served on several university committees concerning diversity, academics, and athletics. He was further selected to attend Oxford University in Oxford, England for an in-depth study program on Shakespearean Literature. While at Tulane Law School, he was selected as the Editor-In-Chief of the Tulane Law School weekly, Dicta, and was one of a select group of students chosen to represent indigent and public service organizations as a student attorney in environmental cases.
On a personal level, Roberto and his wife, Lori, have been married since 2000 and have one daughter, two cats and two dogs so his house is basically a zoo.
EMPLOYMENT
• The Rios Law Firm, P.C.-Attorney (1997-Present)
• Rios Mediation Services-Certified Mediator (2007)
EDUCATION
• B.A., English, University of Texas at Austin (1994)
• Minor in Mexican-American Studies
• J.D., Tulane University School of Law (1997)
• Achieved certification in Environmental Law
• Mediation Certification, University of Texas Law School (2007)
ADMITTED TO THE BAR
• State Bar of Texas . 1997
AREAS OF PRACTICE
• Personal Injury
• Product Liability
• Civil Litigation
• Insurance Disputes
• Liquor Liability
• Wrongful Death
• Employment Law
• Mediation
LANGUAGES
• Proficient in Spanish
PROFESSIONAL ASSOCIATIONS
• San Antonio Bar Association
• San Antonio Trial Lawyers Association
• Texas Bar Association
• Texas Trial Lawyers Association
• Mexican American Bar Association
PROFESSIONAL AND COMMUNITY INVOLVEMENT
• President of the San Antonio Trial Lawyers Association (2012-2013)
• Vice President of Public Affairs for San Antonio Trial Lawyers Association (2006-2012)
• Board of Directors for San Antonio Trial Lawyers Association (2004-Present)
• Member of Texas Trial Lawyers Association Committee on Diversity (2005-Present)
• Board of Directors for SBC Branch of the YMCA (2002-2003)
• Board of Directors for Providence Catholic High School (2001-2002)
• Member of San Antonio Bar Association Law School Committee (2000-2001)
• Team Member of San Antonio Catholic Archdiocese ACTS Retreats (2000-2007)
• Member of the Environmental Law Clinic of Tulane Law School (1996-1997)